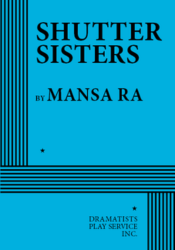 THE STORY: A heartfelt dramedy, SHUTTER SISTERS tells the story of two women living parallel lives. A white woman named Michael struggles with strained family relationships at her adopted mother's funeral, while a Black woman named Mykal navigates a challenge of her own: becoming an empty nester. A surrealist journey through womanhood, identity, and what it means to belong.
"SHUTTER SISTERS [is] a funny, sweet story on parallel lives across the color line…honesty and humor…[a] fast-moving play…about the longing for connection, belonging and family." —San Diego Tribune.

"SHUTTER SISTERS is a very enjoyable and empathetic look at how connections between mothers, daughters, friends, and even strangers impact the story of your life." —BroadwayWorld.