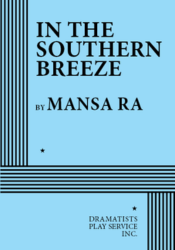 THE STORY: Deep in an existential crisis, a man locks himself in his apartment. When a mysterious time portal reveals itself, the man begins a journey that traverses centuries of history. As he explores the complicated and camouflaged barriers for Black Americans, he begins to heal. IN THE SOUTHERN BREEZE poetically examines the social, racial, and generational struggles that Black men face, creating a space for a brighter, star-filled future.
"Formally ambitious…[a] tender tribute to previous generations of Black Americans." —The New York Times.

"Mansa Ra invites you into limbo with him. You emerge from the show as if you're leaving his mind. To leave the theater, you go down a long stairwell, but it feels like rising again into life...Alternately funny and heartbreaking, and the way in which [the characters] inspire the protagonist to ultimately choose life is genuinely uplifting…Ra's play is a worthy, and in some ways even more daring, companion piece." —New York Magazine.