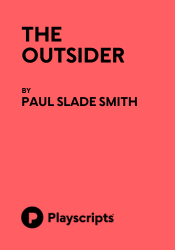 Full Length, Comedy
4 men, 3 women
Total Cast: 7, Single set, a governor's office.
ISBN-13: 978-1-62384-907-8


MIN. PERFORMANCE FEE: $110 per performance.
THE STORY: Ned Newley doesn't even want to be governor. He's terrified of public speaking; his poll numbers are impressively bad. To his ever-supportive Chief of Staff, Ned seems destined to fail. But political consultant Arthur Vance sees things differently: Ned might be the worst candidate to ever run for office. Unless the public is looking for... the worst candidate to ever run for office. A timely and hilarious comedy that skewers politics and celebrates democracy.
"Funny, timely, and dare we say, entirely possible, The Outsider is a wonderfully crafted, superbly presented show... It is an insightful, witty satire about modern American politics that will appeal to a vast audience." —BroadwayWorld.

"Mr. Smith deserves to go to Washington, and all around our nation, with this inspired satire." —Green Bay Press.