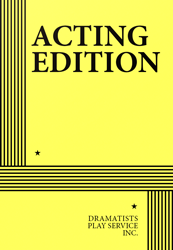 Full Length, Comedy
4 men, 2 women
Total Cast: 6, A stylish 1920s London flat
ISBN-13: 28998-28999


MIN. PERFORMANCE FEE: $85 per performance.
THE STORY: 1920s high-society London is once again thrown into chaos by hapless playboy Bertie Wooster, this time in cahoots with his old school chum Eustace Bassington-Bassington. The two hatch a brilliant plan to dupe their meddling relatives in order to save Bertie from an undesired marriage and Eustace from an unwanted job in India. But will the ever-faithful manservant Jeeves be able to rescue these bumbling fools from themselves? A delightful romp full of deception and disguise.
"Jeeves Intervenes is a champagne cocktail of a show, as bright and engaging as a garden party in May." —Chicago Tribune.

"...Humor that is as wry and dry as James Bond's shaken martini." —Carolina Curtain Call.

"There is mistaken identify, ridiculously improbable circumstances and foolishness of the highest order... Think one part early Noel Coward, plus one part late Oscar Wilde." —Citizen Times (NC).