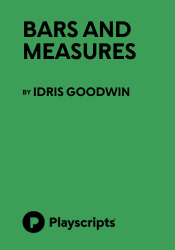 Full Length, Drama
4 men, 1 woman (4-9 actors possible: 3-8 men, 1-3 women)
Total Cast: 5, Flexible, minimal suggestions of various locations.
ISBN-13: 978-1-68069-927-2


MIN. PERFORMANCE FEE: $85 per performance.
THE STORY: A tale of two brothers. One a classical pianist, the other a jazz bass player. One a Christian, the other a Muslim. One living in freedom, the other in jail. Separated by bars, Bilal and Eric try to reconcile their differences through the language they know best: music. BARS AND MEASURES is a beautiful journey through faith, family, melody, and time.
"BARS and MEASURES is about kinship and allegiance: the messy, painful, tenacious bonds of family, and what you owe to your nation if it looks at you and sees the enemy. But this is also a tale about getting lost, and whether and how you can find your way back…" —The New York Times.

"...intrinsic musicality and humor." —Washington Blade.

"★★★★. BARS and MEASURES is one of those rare productions that plays its final note before you're ready for the song to end." —DC Metro Weekly.

"Goodwin knows the power of language and rhythms of communication." —BroadwayWorld.