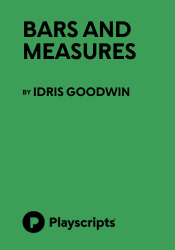 Full Length, Drama
4 men, 1 woman (4-9 actors possible: 3-8 men, 1-3 women)
Total Cast: 5, Flexible, minimal suggestions of various locations.
ISBN-13: 978-1-68069-927-2


MIN. PERFORMANCE FEE: $85 per performance.
THE STORY: A tale of two brothers. One a classical pianist, the other a jazz bass player. One a Christian, the other a Muslim. One living in freedom, the other in jail. Separated by bars, Bilal and Eric try to reconcile their differences through the language they know best: music. BARS AND MEASURES is a beautiful journey through faith, family, melody, and time.