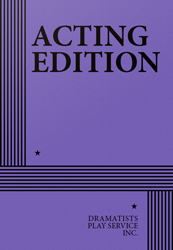 Short Play, Comedy/Drama
3 men, 2 women, 4 any (4-9 actors possible: 0-9 men, 0-9 women)
Total Cast: 9, Unit set representing various magical/high-tech locales
ISBN-13: 1931-2596


MIN. PERFORMANCE FEE: $55 per performance.
THE STORY: Computer magnate Gill Bates has the greatest software company on earth, billions of dollars, and more power than he ever dreamed of...but there's still something missing in his life: children. So he builds a little robot named Pinocchio to keep him company. But this mischievous little bundle of microchips has his own headful of ideas about how to enjoy life, including following two shadowy characters into worlds of increasing consumer frenzy. What follows is a wacky, charming 21st-century retelling of the 19th-century classic about what it takes to become a real human being, for both father and child.