The 39 Steps: A Live Radio Play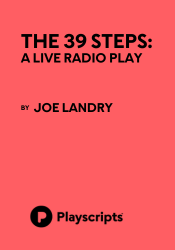 Short Play, Mystery/Thriller
3 men, 2 women (2-20 actors possible: 1-15 men, 1-5 women)
Total Cast: 5, Suggestive of a 1940s radio station
ISBN-13: 978-1-62384-129-4


MIN. PERFORMANCE FEE: $60 per performance.
THE STORY: Inspired by Hitchcock's classic tale and performed as a live period radio play, this romantic thriller is a fast-paced ride through the signature world of the Master of Suspense. Richard Hannay is visiting 1930s London when he meets Annabella Smith, who is on the run from foreign agents, after a disturbance at a music hall. Later that night, Annabella is murdered and Hannay must then try to break the spy ring and prove his innocence. From an epic train chase to a feisty love interest, Hannay has his work cut out for him as he searches for the truth about The 39 Steps.
"...transforms the stage into a well-oiled machine of actors reaching for noise-making props while portraying a nerve-shattering array of characters in varying states of fear, anxiety, panic and murder." —Atlanta Journal-Constitution.