Every Christmas Story Ever Told (And Then Some!)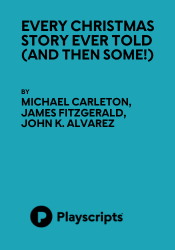 Full Length, Comedy
3 men (3 actors possible: 0-3 men, 0-3 women)
Total Cast: 6, Minimal: several chairs, a couple of trunks, some holiday decoration
ISBN-13: 978-1-62384-036-5


MIN. PERFORMANCE FEE: $90 per performance.
THE STORY: Instead of performing Charles Dickens' beloved holiday classic for the umpteenth time, three actors decide to perform every Christmas story ever told -- plus Christmas traditions from around the world, seasonal icons from ancient times to topical pop-culture, and every carol ever sung. A madcap romp through the holiday season!
"A respectful homage and side-splitting parody at the same time." —Sacramento Bee.

"The play accomplishes the small miracle of making all Christmas myths seem both utterly ridiculous and absolutely essential. Yes, Virginia, you can have your fruitcake and eat it, too." —Orlando Weekly. "A hilarious send-up of, well, every Christmas story ever told ... This is a highly recommended alternative to cut-and-dry Christmas offerings." —NUVO Media (IN).