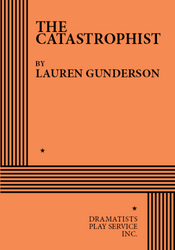 THE STORY: How do you plan for a catastrophe? Virologist Nathan Wolfe, named one of Time's 100 Most Influential People in the World for his work tracking viral pandemic outbreaks, proposed pandemic insurance years before the novel coronavirus outbreak. No one bought it. Now, in a post-COVID world, we hear his story. An interactive deep dive into the profundities of scientific exploration and the harrowing realities of facing your own mortality, THE CATASTROPHIST is an unforgettable theatrical experience.
"...interesting and exotic yet entirely normal, filled, like all lives, with discovery and disappointment, joy and loss. In Ms. Gunderson's hands, THE CATASTROPHIST sheds compassionate light on the all-too-human tendency to ignore catastrophe until it is too late. There's no risk, and plenty of reward, in watching this essential lesson." —The Economist.

"A marriage of art and life. Fascinating." —PBS NewsHour.

"Deeply affecting…sensorial…warmly comical. Readymade for this historical moment." —San Francisco Examiner.