Art Is Useless When You're Being Mauled By A Bear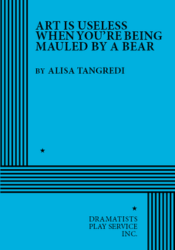 THE STORY: ART IS USELESS WHEN YOU'RE BEING MAULED BY A BEAR is the story of a woman coping and finding strength during a fantastical journey through grief, guilt, loss, and a descent into madness. A series of encounters with beings both real and imagined, some straight out of a Grimms' fairy tale, pushes her toward an ultimate and unavoidable truth. And yes, there is a bear.
"Imaginative in the extreme and highly entertaining!" —Paul Myrvold's Theatre Notes.