A Doll's House (Brandt, Harvey)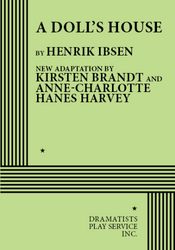 From a Platform Translation by Anne-Charlotte Hanes Harvey.

THE STORY: Nora's life is on the upswing. Her husband got a promotion, and their financial struggles are over at last. But when a man from her past reappears, bent on bringing a dangerous secret to light, everything changes: her marriage, her family, even her relationship to the world around her. This new adaptation of the play brings audiences closer than ever to Ibsen's spellbinding masterwork.
"At the heart of this new adaptation is an eloquent reminder of why this century-old classic endures." —Culture Vulture.