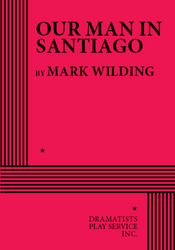 THE STORY: What's the best way to overthrow a president? In 1973, junior CIA agent Daniel is tasked with removing Chilean president Salvador Allende from power. He certainly has his work cut out for him, with the senior CIA agent breathing down his neck, a suspicious hotel maid popping in at the worst times, and Richard Nixon and Henry Kissinger constantly asking for updates (even though they're definitely not overseeing the entire mission). Will he be able to oust Allende, despite not being able to speak Spanish or load a gun? OUR MAN IN SANTIAGO is a kooky spy throwback about patriotism, power, and American adventurism.
"…a perfect trio of untrustworthy collaborators, each with their own personal agenda and ambitions…there is plenty here to enjoy…" —Talkin' Broadway.

"Playwright Mark Wilding has the heart of a civics professor and the timing of a sitcom writer." —The Hollywood Times.

"…a smart and humorous political farce and morality lesson that will leave you laughing, while contemplating the overwhelming allure of power, whatever the cost." —DC Theater Arts.

"When political intrigue by the power-hungry goes off the rails, often the results are too ridiculous to believe…Mark Wilding's hybrid-genre, spy thriller and satiric farce pokes fun at political players in our historic past." —Theater Pizzazz. "[OUR MAN IN SANTIAGO] has intelligent dialogue and plotting that offers some genuine surprises and unexpected turns." —Stage and Cinema.