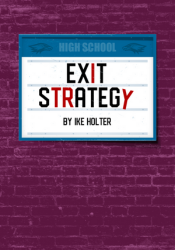 Full Length, Drama
4 men, 3 women
Total Cast: 7, An office, a teachers' lounge, and outside of the school.
ISBN-13: 978-1-62384-908-5


MIN. PERFORMANCE FEE: $85 per performance.
The 2nd play in Ike Holter's Rightlynd Saga.

THE STORY: They bring mousetraps from home, they make the toilet paper last, and they show up for the kids nobody else shows up for. So when the school is slated for closure at the end of the year, and the weight of the inevitable bears down on the community, students and teachers alike discover their breaking points. Ricky, the vice principal, has stayed firmly on the sidelines for all of the teachers' previous battles, but now in the eleventh hour, he's compelled to step up with a plan to save the school. Some risk their futures to follow his lead-- But does he actually have any idea what he's doing? Spiked with humor and brimming with fury, EXIT STRATEGY is an exhilarating call to arms about what we owe each other.
"Each character in EXIT STRATEGY comes quickly into clear focus. And while the play serves as a stinging indictment of the state of public schools in Chicago and, more broadly, the country, Mr. Holter deftly embeds his finger-pointing in the drama itself. We see beyond the surface dysfunction to the toll it takes on the lives, and careers, of the teachers, whose dedication to their students comes across movingly, even when they are complaining about them." —The New York Times.