I Ragazzi ("The Children")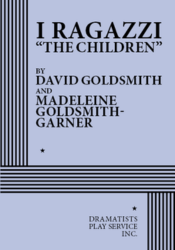 Una Commedia In Due Atti
To purchase a manuscript copy of I Ragazzi ("The Children"), via ePUB format,
click here.


THE STORY: Camille is spending her year abroad from her New England liberal arts college back in America in a boarding house in Ferrara, Italy. There, in that most romantic of settings, she and her instant family of foreign exchange students from Spain, Germany, and of course, Italy, find shifting allegiances to love, food, music, sex, and treachery in this romantic dramatic comedy featuring an exclusive 20-something ensemble of actors.
"I RAGAZZI throws together a boarding house of culturally diverse, funny, and passionate young characters into one pressure-cooker situation. Filled with juicy protagonists, romance, and the clash of American and European cultures, I RAGAZZI could become a staple for colleges, conservatories, and theatres around the world." — Kevin McCollum, producer of Rent, Avenue Q, In The Heights, Motown The Musical, Steven Spielberg's West Side Story, and Six.