Leopoldstadt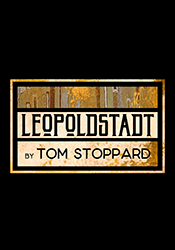 Winner of the 2023 Tony Award® for Best Play.

THE STORY: Set in Vienna, the play takes its title from the Jewish quarter. This passionate drama of love and endurance begins in the last days of 1899 and follows one extended family deep into the heart of the 20th century. Full of his customary wit and beauty, Stoppard's late work spans fifty years of time.
Also winner of the 2023 New York Drama Critics' Circle Award for Best Foreign Play, Drama Desk Award for Outstanding Play, Drama League Award for Outstanding Production of a Play, Outer Critics Circle Award for Outstanding New Broadway Play.

"A heart-rending epic." —The New York Times.

"Brilliant and gorgeous. A masterpiece." —Deadline.

"Breathtakingly brilliant." —Chicago Tribune.

"Ranks among Mr. Stoppard's greatest works…an inexpressibly moving, majestic play." —Wall Street Journal.