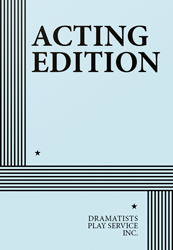 Full Length, Drama
5 men, 8 women
Total Cast: 13, Flexible Set
ISBN-13: 978-0-8222-1484-7

THE STORY: Laura Dennis is a high school senior living in Harrison, Texas. She loves her home in Harrison and the woman who cares for her, but she is restless. Her mother left for South Dakota years ago, and her father died when Laura was very young. Though he doesn't want to be a part of her life, Laura's uncle supplies the much needed money for her upbringing, and tries to care the best he can. Writing a letter to her mother, Laura hopes to be invited to visit, or better yet, come live with her. She begins dating Stewart, while unaware of the affections of another classmate, Harvey. She also discovers that her alcoholic neighbor, Velma, is really a distant cousin with knowledge of her secret family history. Over the course of several weeks, while Laura waits for an answer from her mother, she learns of her mother's infidelities and her father's jealousies, as she becomes enmeshed in a parallel family drama in the present.
From this Pulitzer Prize-winning author comes a haunting tale of family devotions and their loves and denials, life and death. "The more one explores Foote's work, the more one sees his methods and gets on nodding terms with his people, the more one appreciates its rich and uniquely American texture." —NY Post. "…Foote vividly recreates a particular world—the small Texan town and its quirky inhabitants. And here, too, is his genius for creating everyday language. No one is more capable of turning life into art and art into life, by way of dialogue." —Backstage.