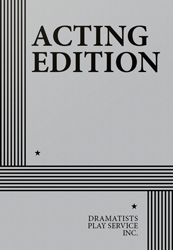 Full Length, Drama
3 men, 3 women
Total Cast: 6, Flexible Set
ISBN-13: 978-0-8222-0726-9


FEE: $105 per performance.
THE STORY: Set in the netherworld of thoroughbred racing, SIMPATICO explores themes of memory, loyalty and restitution. When Lyle, a successful horse breeder in Kentucky, receives a desperate phone call from Vinnie, a troubled barfly living in Southern California, their shady past threatens to ruin them both once and for all. High society meets the low life in this hair-raisingly funny play by the Pulitzer Prize-winning author of Buried Child.
"SIMPATICO is a breathtaking succession of surprises in the writing…[It] is a major addition to this theatrical season…[SIMPATICO] is Mr. Shepard writing at his distinctive, savage best." —NY Times. "Shepard's fascinating—if not profoundly important—new revenge tragic-comedy…seems more straightforward than most of his 45-play, 12 Obie, one Pulitzer Prize-winning career…Shepard has directed his terrific cast in a series of noir snapshots, a mosaic of scenes surrounded by a black hole, each final image held for a slow cinematic dissolve." —New York Newsday. "…the tone of the play—succinct, laconic and easy-riding—is attractive, intriguing and amusing…Shepard still writes wonderful roles for actors." —New York Post. "SIMPATICO is laced with echoes of film noir, as if Shepard were at once trying to imitate the genre, kid it, and defuse it, replacing the violent climaxes with pleas for mercy, compassion, and the healing power of time…Every speech curves in unexpected directions, and the winding progress of the scenes keeps luring you in." —Village Voice. "It is like a cross between a modern film noir, Ibsenesque thriller and revenge drama." —London Evening Standard.