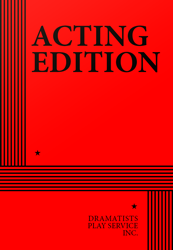 Full Length, Comedy
7 men, 1 woman
Total Cast: 8, Flexible Set
ISBN-13: 978-0-8222-1402-1


MIN. PERFORMANCE FEE: $105 per performance.
THE STORY: Jeffrey, a gay actor/waiter, has sworn off sex after too many bouts with his partners about what is "safe" and what is not. In gay New York, though, sex is not something you can avoid. Whether catering a ditzy socialite's "Hoe-down for AIDS" or cruising at a funeral; at the gym or in the back rooms of an anonymous sex club; at the annual Gay Pride Parade, or in the libidinous hands of a father-confessor, Jeffrey finds the pursuit of love and just plain old physical gratification to be the number-one preoccupation of his times—and the source of plenty of hilarity. Suddenly, just after he's reconciled himself to celibacy, Jeffrey's flamboyant friends introduce him to the man of his dreams, who also happens to be HIV-positive. What follows is an audacious and moving romantic comedy with a difference—one in which the quest for love and really fabulous clothes meet, and where unflagging humor prevails even when tragedy might be just around the corner.
In this, the most out (and outrageous) romantic comedy written today, Paul Rudnick skewers every gay stereotype imaginable while fearlessly celebrating what makes the gay life-style so compelling and controversial.

"Wildly funny…Just the sort of play Oscar Wilde might have written had he lived in 1990s Manhattan…the laughter along the way is a battle cry, a defiant expression of who these idiosyncratic characters were before AIDS arrived, and who they will still be after it has gone." —The New York Times.

"The hottest ticket Off-Broadway…even with AIDS lurking in the background, JEFFREY sparkles…Mr. Rudnick…has come up with some of the funniest lines and deftest gimmicks onstage today…He is a master of one-liners." —Wall Street Journal.