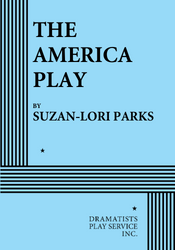 Full Length, Drama
3 men, 2 women
Total Cast: 5, Flexible Set
ISBN-13: 978-0-8222-1423-6


MIN. PERFORMANCE FEE: $105 per performance.
THE STORY: Once upon a time there was a theme park called the Great Hole of History. It was a popular spot for honeymooners who, in search of "post-nuptial excitement," would visit and watch the daily historical parades. One of these visitors was a man who has now come to call himself The Foundling Father. He was a digger by trade—a grave digger—and he was struck by the size of the Hole and the pageantry of the place. He returns home with his wife, Lucy, a woman who keeps secrets for the dead, and together they start a mourning business. Unfortunately, our hero can't get the Great Hole pageantry out of his head; the echoes of history speak to him and call him to greatness. At rise we meet this Foundling Father. He has left his wife and child and gone out west to dig a huge replica of the Great Hole of History. In the Hole sits our hero. He is dressed like Abraham Lincoln, complete with beard, wart, frock coat, and stove pipe hat. He tells us the story of his own life (in the third person) and tells us that he has become a very successful Abraham Lincoln impersonator! He's so successful that people actually pay a penny to re-enact Lincoln's assassination, using our impostor-hero and a phony gun. Eventually the Father dies, and the second act sees his wife, Lucy, and thirty-five-year-old son, Brazil, a professional weeper, visit the Hole to dig for his father's remains. Listening to the past through her deaf-horn, Lucy hears echoes of gunshots and lurid stage-shows. When they dig up the Foundling Father's body (he's alive), they decide they have to lay him to rest for good. In the play's last image, his son is trying to climb a ladder out of the Hole of History while the Foundling Father sits starkly on his own coffin, refusing burial.
A powerful and provocative theater piece ruminating on black identity, theater and American history. What is it like to have your identity as a black American forever linked to, and displaced by, prominent images from white history that seem to be about you, but aren't? Is there a way for the theater to write originally about black experience? Suzan-Lori Parks distills and stages these questions haunted-house style, with daunting intellectual and emotion results.

"Is there a more generous, compelling talent on either side of the Atlantic than Suzan-Lori Parks? She's the natural heir to Beckett (and the only playwright worthy of the accolade)…Within the dramatist's playfulness and punning and Joycean delight in language—between the spoken lines, in a startling fresh image or the ricocheting echo of a gunshot—is an entire, tragic universe. She has written the most staggering American play imaginable." —New York Observer.