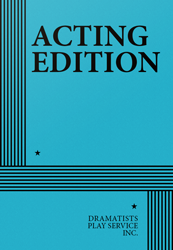 Full Length, Drama
13 men, 4 women (flexible casting)
Total Cast: 17, Flexible Set
ISBN-13: 978-0-8222-1403-8

THE STORY: Lillian, a young clerk in a department store impulsively steals a watch from the store to replace the one, Frederic, her boyfriend, lost. Over the next 24 hours, both their lives twist and turn in ways they never expected. Lillian's guilt over her theft nearly gets the best of her and she vows to turn herself in until her friend and coworker, Rose, convinces her to lie. Rose tries to cheer Lillian up by taking her out for drinks where they meet a wealthy businessman and a city official. The men take the women out for a whirlwind evening ending in the businessman's apartment where Lillian is raped by the official, but reveals this to no one. Frederic, depressed for some time, is determined to get back on his feet. He tries but fails to collect money he's owed in order to pay off his debt to a loan shark, who, having no pity, beats him, forces him to beg for an extension, and takes the watch as collateral, leaving him on the street. He embarks on a desperate search for work which leads to a group of criminals who'll pay him to steal fixtures from abandoned buildings, which he does. The next day, Lillian returns to work prepared to confess to the theft. Frederic enters the store, convinced he's done the right thing, wanting to tell Lillian that he's back on the right path. When Lillian sees him, she sees her own way out: she wants the watch back. Frederic doesn't have it, and Lillian believes he sold it for drug money. Rejected, utterly humiliated, Frederic is again cast out onto the streets. When her superior approaches, Lillian lies about the watch, saying a customer must have taken it, thus starting new troubles of her own.
Winner of the 1994 Obie Award. THE LIGHTS is a dark investigation of the lives of a young couple as they struggle to exist in a large urban city that threatens to devour them. "Korder writes up a fury in a jackhammer blast of imagination that delivers tenfold on the promise of his earlier works…nothing, however, could prepare us for the lyrical authority of [his] voice in THE LIGHTS, which resonates with jagged elegies for a lost civilization." —NY Newsday. "There is a first despair that is just as transfiguring as first love, and Korder has caught its pulse and set it to music." —NY Daily News.