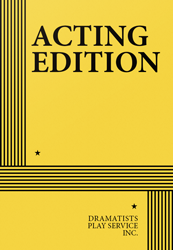 One Act, Comedy
1 man, 1 woman
Total Cast: 2, ISBN-13: 978-0-8222-1368-0


MIN. PERFORMANCE FEE: $55 per performance.
THE STORY: YOUR MOTHER'S BUTT focuses on a therapist desperately searching for clues to help her seriously disturbed young patient. As the patient rattles on about shoes and belts, he recalls a dream he had about his mother, and the therapist thinks she's got her answer.
"The one act plays by Georgia playwright Alan Ball are comic gems." —Twin Cities Reader.

"[Ball] demonstrates a painfully lethal awareness of the convoluted games our generation has been consigned to play after we decided 20 years ago that we wouldn't play any more games." —Downtown.