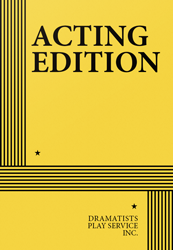 One Act, Comedy
1 man, 1 woman
Total Cast: 2, ISBN-13: 978-0-8222-1368-0


FEE: $40 per performance.
THE STORY: YOUR MOTHER'S BUTT focuses on a therapist desperately searching for clues to help her seriously disturbed young patient. As the patient rattles on about shoes and belts, he recalls a dream he had about his mother, and the therapist thinks she's got her answer.
"The one act plays by Georgia playwright Alan Ball are comic gems." —Tad Simmons, Twin Cities Reader. "[Ball] demonstrates a painfully lethal awareness of the convoluted games our generation has been consigned to play after we decided 20 years ago that we wouldn't play any more games." —David Kaufman, Downtown.