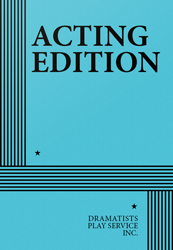 Full Length, Drama
2 men, 2 women
Total Cast: 4, Flexible Set
ISBN-13: 9780822214144

THE STORY: Josephine Monaghan lived her adult life in the West as a man, with no one knowing her real gender. A debutante in the east, Josephine has a baby out of wedlock, and in order to support it and spare the child any shame, she heads west as Joe, leaving her son, Laddie, with her sister, Helen. Joe carves out a wrangler's life, learning how to live and work like a man. She is befriended by an older cowboy, Fred, who remains her friend for life and who never finds—while she is alive—that Joe is a woman. Joe sends money back home to help raise her son, yet, as time goes on and Laddie grows older, Helen feels he has become her child, and she tells him his mother is dead. Joe finally goes back East to visit, the one time in all her years away, and finds her son thinks her dead. With Helen's explanations and pleading, Joe goes along and meets her son disguised as his mother's old best friend, Fred. Back in the West, as Joe gets older and frail, she remembers her youth, her lover, her child and her first days with Fred. Memories mingle with fantasies of what might have been. Knowing that Fred will find her when she dies, Joe lays out her letters and old belongings; clues to her identity, her cherished "real surprise" for Fred. As her life nears its end, Joe/Josephine grapples with herself, her history and identity. As she prepares to die, she finds peace in the truth of Fred's words, "Kin is plain and simple who you find."
Based on the true life adventures of Joe Monaghan, a woman cowboy of the late 1800s, who passed for a man her entire adult life. "LITTLE JOE MONAGHAN is a poignant, humorous, fanciful projection of what might have been the thoughts and emotions of Josephine Monaghan…Lebow's style is lyrically vernacular, with humanity, warmth and a piquant sense of humor exhibited in the snappy dialogue. The title role is a tour de force for a versatile actress…LITTLE JOE is a intriguing and compassionate play." —Atlanta Constitution.