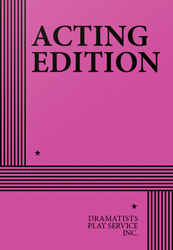 Full Length, Drama
3 men, 2 women, 1 boy
Total Cast: 6, Flexible Set
ISBN-13: 9780822213635

THE STORY: December 24th and 25th, amidst cardboard shelters and trash-can hearths, Otis Pope, a sardonic army veteran, decides who is allowed to stay in the enclave, and who must go. Currently part of this "family" are Verna, a disoriented frequently pregnant, sometimes gritty, other times child-like woman; her nameless and mute eight-year-old son; Charlie, a down-on-his-luck unemployed blue collar worker; Azalee Hodge, an outspoken woman trying to climb back up and Filomeno Cordero, a recent immigrant from Central America, who finds the group on Christmas eve. Discovering a worn-out copy of Dickens' A Christmas Carol, the group responds to Verna's pleas to re-enact the old story as a gift for her son. She can't wait to be Tiny Tim. The others cast Pope in the Scrooge role, though he resists playing along. In a revisionist inspiration, Pope becomes MC of the "Tiny Tim Telethon." Filo, unfamiliar with the story, assumes a reggae interpretation of the wrong Marley's ghost. Verna becomes delusional, Azalee wants to leave, Charlie tries to keep the peace, but antagonisms, opinions, addictions and moments of violence overtake them. The tale is never completed and the family is broken up, the boy left alone. One by one, willingly or not, the characters depart with no promises for the future, though Pope then grudgingly returns.
Wickedly amusing and delicately poignant, this play takes a wry and ironic look at a group of homeless people who form an unconventional family. "TINY TIM IS DEAD takes the audience on a heart-warming and heart-wrenching journey into the world of a group of urban street people." —The Philadelphia Press. "…a dramatic reminder of the woes, and occasional wonders, of modern life in America." —Burlington County Times.