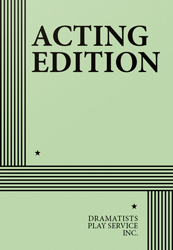 Full Length, Drama
5 men, 5 women
Total Cast: 10, Flexible Set
ISBN-13: 978-0-8222-1369-7


MIN. PERFORMANCE FEE: $105 per performance.
THE STORY: Bill and Jean are a young couple living in New York's East Village, struggling to overcome the death in childbirth of their first-born. Bill's job as a nurse-anesthetist brings him face to face with life's harsh realities on a daily basis. Jean is a painter valiantly endeavoring to paint again. Day after day she brings her easel to the East River where she finds a good urban landscape to paint and where one day she also finds Hector, a young boy who fishes there, and who Jean tries to take under her wing. While Bill finds solace in the memories of his elderly patients and in helping Opal, a homeless woman, Jean attempts to get to know Hector, only to have him turn on her in a scene of terrifying violence. Retreating to a world of her own as a result of the attack, Jean remains city-shocked and incapable of action. Bill, needing to commit himself to something, no matter what, brings Opal to live in the room he and Jean had been preparing for their lost child.
An unflinching view of life in contemporary urban America. In the lives of one young New York couple, the loss of their first-born creates the need to take in and nurture others, even strangers. The results of this are devastating.

"…an impressive…play worth taking seriously." —New York Post.