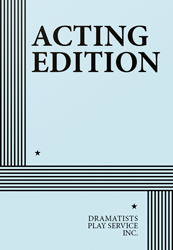 Full Length, Drama
7 men, 1 woman (flexible casting)
Total Cast: 8, Flexible Set
ISBN-13: 978-0-8222-1365-9


MIN. PERFORMANCE FEE: $105 per performance.
THE STORY: In 1878, while sailing off the coast of Nova Scotia, the Elizabeth Watson sights the San Christobal, apparently abandoned. When a boarding party climbs aboard, however, they find the San Christobal's cargo intact as well as the remains of the ship's crew and passengers. They also find a diary belonging to a cabin boy. Reading the diary reveals life on board the ship and the incidents leading to the tragic end of the crew and passengers. Tom, the cabin boy, tried all his life to please others, trying hardest to please Lieutenant Brand, his surrogate father since Tom was orphaned as a boy. On this last trip, the San Christobal carried a mysterious Countess, with whom Tom was enchanted. Lt. Brand is also enchanted with this elusive and intoxicating woman and has an affair with her aboard ship. Tom finds out about the affair, which upsets him, yet then, the Countess takes Tom to bed too, confusing him even more. The Countess, regretting her momentary lapse with Tom, goes to Lt. Brand and accepts his proposal of marriage. The wedding takes place without Tom and unable to deal with this rejection, Tom puts rat poison in the wine and kills everyone on board, then disappears. The captain of the Elizabeth Watson is transfixed with the mystery of the story of the San Christobal, and the true ghost story told by the ghost of Tom.
A ghost story of love, betrayal and revenge set on the high seas off Nova Scotia in 1878.

"Schenkkan has written a taut tale, one full of imagery, psychological probings and symbolism." —Sun Journal.

"FINAL PASSAGES paints a haunting portrait of youth cast adrift. Schenkkan is a writer with gripping powers of observation and description." —Buffalo News.