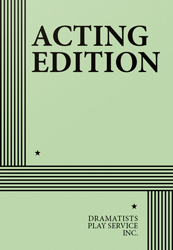 Full Length, Drama
3 men
Total Cast: 3, Interior
ISBN-13: 978-0-8222-1336-9


MIN. PERFORMANCE FEE: $105 per performance.
THE STORY: The estranged son of a middle-aged man returns home to find that his father has taken in a young refugee from El Salvador. Not only has the refugee moved in, but he's been given the son's room and is sleeping in his bed. As this explosive situation tests the already strained father-son relationship, we discover that the son is a male prostitute and was sexually abused on a regular basis by his average, working-class father. Throw in the secretive young man from El Salvador and the mix becomes deadly in this play rife with recriminations, secrets, seductions, hypocrisy, confessions and above all the desperate need of redemption and atonement. As played out through the images of an unbalanced father, his deeply wounded son and the young refugee, Blessing unflinchingly delves into the psyche of fathers and sons and patriarchal society in and of itself.
"…A finely crafted and haunting work that merits further production. The main strength of the [play] is its unusual, provocative fusing of psychological and political themes…It is ideal for studios and second stages." —Variety.

"The 90 taut minutes strip away layers of secrets and suggest a link between the men's sins—a dependence on the propensity of bourgeois Americans to look away from ugly facts rather than decry them." —Time Magazine.