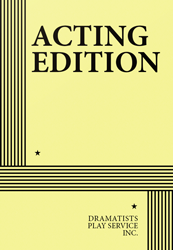 Full Length, Fantasy
22 men, 8 women, 2 boys, 1 girl (flexible casting)
Total Cast: 33, Flexible Set
ISBN-13: 978-0-8222-1345-1

THE STORY: This is the beloved story of Peter, Wendy, Michael, John, Capt. Hook, Smee, the lost boys, pirates and the Indians, and, of course, Tinker Bell, in their adventures in Never Land. However, for the first time, the play is here restored to Barrie's original intentions. In the words of John Caird: "A brief explanation of some of the decisions we took in revising the text may be useful to anyone considering their own production of this version…We were fascinated to discover that there was no one single document called Peter Pan. What we found was a tantalizing number of different versions, all of them containing some very agreeable surprises…We have made some significant alterations, the greatest of which is the introduction of a new character, the Storyteller, who is in fact the author himself. To a reader of the play, one of its most enjoyable ingredients is Barrie's unmistakable authorial tone. He tells the story of Peter Pan partly through dialogue and partly by means of his inimitable stage directions. In a whimsical, ambiguous and ironical manner he speaks here as clearly to adults as he does to children. Moreover, many of the play's complicated conceits are only comprehensible if Barrie's commentary can be heard in parallel with the voices of the characters. This device also allows us to prepare our audience with some essential background history of the Darling family in a brief prologue, and to extend the narrative at the end of the play to include Barrie's heartbreaking and heartwarming conclusion to Peter and Wendy's story."
The Royal Shakespeare Company relished in the phenomenal success of this new version of the classic tale painstakingly researched and restored by Caird and Nunn to Barrie's original intentions. "…a national masterpiece." —London Times. "…we have a resonant and beguiling fantasy that boasts as much spectacle as any child could wish; and that, at the same time, touches on the double Barriesque tragedy of growing up into conformity or being marooned indefinitely in the Never Land." —The Guardian (UK).