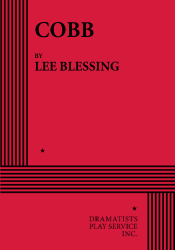 Full Length, Drama
4 men
Total Cast: 4, Exterior
ISBN-13: 978-0-8222-0224-0


MIN. PERFORMANCE FEE: $105 per performance.
THE STORY: The character of controversial baseball legend Ty Cobb is split into three differently aged versions of himself: The Peach, aged nineteen, at the beginning of his long career with the Detroit Tigers; Ty, in his early forties, at the end of his playing days; and Mr Cobb, in his early seventies, at the point of death from cancer. The play floats freely in time, moving back and forth among the Cobbs as they contend with each other, and the audience, over whom Ty Cobb really was and what he represented. Invading this self-imposed "argument in limbo" is Oscar Charleston, a black player of Cobb's time who, though relegated to the Negro Leagues, was dubbed the "Black Cobb" by the white press. Ty tries to avoid Charleston just as he always avoided playing exhibition games against him or any other black players. As Cobb fights both popular opinion, and himself, to justify his life, Charleston provides a deeper challenge to his self-esteem. Ultimately we come to know Cobb in his full complexity—as a sports hero of the highest order, fulfilling one of America's most cherished dreams, and as an example of some of its greatest failures.
This fascinating play examines the life of one of the greatest baseball figures of the twentieth century—Ty Cobb.

"…Mr. Blessing knows how to talk baseball in the form of flavorful theatrical dialogue. In a small tour de force of writing, we're even taken with words on a trip around the bases—no video replay required—with a player whose naked aggression added a frightening dimension to the phrase 'stealing home'" —The New York Times.

"COBB is a peach of a play, a diamond gem that should score big…Blessing delves skillfully—and even sometimes humorously—into what made the man so competitive and contentious." —Variety.