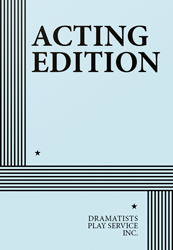 Full Length, Comedy
10 men, 4 women
Total Cast: 14, Flexible Set
ISBN-13: 978-0-8222-0421-3


MIN. PERFORMANCE FEE: $105 per performance.
THE STORY: Young Fortinbras, a modern man of action, enters during the last scene of Hamlet only to order the bodies of the royal family shuffled off while he devises the best possible media blitz to legitimize his ascension to the throne of Denmark. Horatio, sworn to the dead Hamlet to convey the truth of his actions, is immediately cast by Fortinbras into the role of an unwilling public relations person. Meanwhile, Fortinbras is forced to balance a disastrous and mistaken invasion of Poland with a seductive and harrowing array of ghosts, ranging from a vampish Ophelia to a repentant Claudius and Gertrude, all of whom cast doubts in his mind as to what really makes up the character of a ruler. Finally, Horatio, driven to madness by the refusal of everyone to believe in him, assassinates Fortinbras and then kills himself. In the afterworld, all of the characters reconvene, wiser now by their deaths and ready to make a new go of it in Elsinore.
"Ghosts are hellzapoppin" in Lee Blessing's self-described new "metaphysical farce," FORTINBRAS, a comic interplay of wry literary criticism and contemporary wit which takes up where William Shakespeare's Hamlet left off. As inescapably relevant to today's political scene as the classic from which it is drawn, FORTINBRAS cannot help but raise questions about authority and leadership, yet with its mocking (and loving) reverence for Shakespeare's vision, Blessing's play comes closer in tone to Rosencrantz And Guildenstern Are Dead—sexy, inquisitive, and ultimately satisfying to the revisionist theater-lover.

Chosen by Time Magazine as one of the year's ten Best Plays for 1991, calling it "Lee Blessing's splendid musing on the most influential play in the English language…"

"This comedy serves up a yuppie, postmodern Fortinbras, a bewildered Horatio, a blossoming Osric and lots of tasty ghosts." —Los Angeles Times.

"…only Blessing would possess the nerve and the talent to undertake such a task…Where we suffered and wailed at the consequences of Shakespeare's tragedy, we can laugh along with Blessing at what follows in its wake…Shakespeare himself would have loved it." —Drama-Logue.