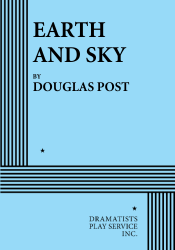 THE STORY: EARTH AND SKY is a poetic thriller about a would-be poet and part-time librarian named Sara McKeon whose lover of ten weeks, David Ames, is found dead one hot August morning in the city of Chicago. It appears that David, owner and manager of an expensive art-deco restaurant, may have been involved in several illicit activities including kidnapping, rape and murder. Unable to believe that the man she gave her heart to was a killer, and outraged that the police seem to have closed the book on the case, Sara begins her own investigation of the crime and is led deeper and deeper through the urban labyrinth into the contemporary underworld. As the detective story moves forward in time, scenes from the love affair take us back to the moment when Sara and David first met. Finally the plots converge, and Sara finds herself face to face with the person who murdered her beloved.
Winner of the L. Arnold Weissberger Playwriting Competition sponsored by New Dramatists.

This exciting thriller examines the seedy urban underworld where murder leads to an indistinct demarcation between law enforcement and law infringement.

"Douglas Posts' EARTH AND SKY is a case of film noir on stage. The devious U-turns in the plot continue past the evening of this taut new thriller." —The New York Times.

"…it is thoroughly engrossing, holding you fast for about 100 intermissionless minutes…a genuine cop thriller, with devious plot turns, tough, corner-of-the-mouth, Chandler/Hammett-style dialogue, and enough surprises to startle rabbits out of holes let alone hats." —New York Post.