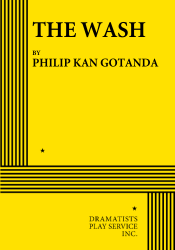 Full Length, Drama
3 men, 5 women
Total Cast: 8, Flexible Set
ISBN-13: 978-0-8222-1222-5


MIN. PERFORMANCE FEE: $105 per performance.
THE STORY: Nobu Matsumoto has separated from his wife, Masi, at her request, though both of them are in their sixties. Nobu's newfound bachelor life is regularly interrupted by Masi who comes by to pick up and drop off Nobu's weekly laundry as part of the duties she still feels a Japanese wife owes to her husband. Their two daughters have opposing feelings about the breakup; Marsha, the more traditional of the daughters, wants to reunite her parents, but not even Nobu and Masi's nostalgia for their courtship in a World War II Japanese-American internment camp can bring them back together again. The other daughter, Judy, who's been estranged from her father since marrying a black American, has been supportive of her mother's attempt at freedom. It is not until Masi tentatively begins a relationship with Sadao, a widower, that the severity of Nobu's traditional values reveals itself; he is inconsolable, obstinate and reclusive, leaving Kiyoko, a widowed restaurant owner who has fallen in love with him, unable to break down his defenses and get him to begin a new life with her. Finally, Masi's decision to divorce Nobu pushes him to the point where he begs her to return to him, but the marriage is irreparable, and Nobu is left at the end of the play contemplating how best to reacquaint himself with his daughters, friends and most important, his ex-wife now that he begins to perceive that things can never again be as they were.
Philip Kan Gotanda is the winner of the 2020 Legacy Playwrights Initiative Award

Tradition collides with the ever-changing landscape of contemporary American culture when a Japanese-American marriage of 42 years dissolves, leaving a husband and wife torn between what their Japanese upbringing demands of them and the happiness their American sense of self-fulfillment urges them to pursue.

"…Gotanda's extremely simple and sensitive play captures most of the ludicrous aspects and bitter failures two people feel at the dissolution of a marriage…" —Drama-Logue.

"There is a quietude and even a fragility about many of the scenes…a play that is small in scale but has broader relevance for families, especially Asian-Americans." —The New York Times.