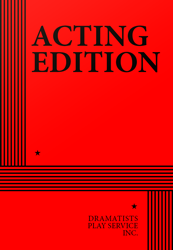 Full Length, Comedy
3 women
Total Cast: 3, Flexible Set
ISBN-13: 978-0-8222-0629-3


MIN. PERFORMANCE FEE: $105 per performance.
THE STORY: In Act One, Mama, an elegant older woman from Cuba, arrives at the Miami home of her daughter, Marita, with her former maid, Zoila, in tow as well as a host of misgivings about living in exile in the United States. As the mother and daughter circle each other warily, the clash of cultures, generations and character create one confrontation after another. But there's little doubt that Mama is beginning to assimilate, even attempting to work the new system as an Avon lady. Act Two opens in a funeral parlor, with three elderly Cuban American ladies sitting watch over a corpse which is gradually revealed to be Mama. It is ten years later and, in one of the funniest funeral scenes ever written, a great deal is revealed about survival and the amazing, and often comical, resilience of the human spirit.
Dignity and hilarity go hand in hand when an old Cuban dowager reluctantly comes to live with her middle-aged daughter in Miami, bringing to America her pride, her maid and her black market connections. "These people, even if wildly accentuated for comedic purpose, ring true and ring beautifully absurd." —NY Post. "The anger of the characters is real…but Mr. Santeiro, keeping his eye steadfastly on the absurdity of the human condition, makes it all ridiculous." —NY Times.