A Christmas Carol (Baizley)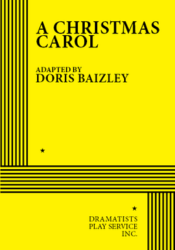 THE STORY: A highly inventive adaptation of the classic Dickens story, pared down to its essential elements. In this version, we encounter a company of traveling players about to enact the Dickens story. As the on-stage trunk of supplies opens, actors and clowns spill out and roll on. The gruff stage manager and prop boy check the show's props, which are shabby and third rate, but the troupe improvises by creating a magical world of make-believe. The acting troupe soon discovers that the actors playing Scrooge and Tiny Tim have abandoned the tour; but the show must go on, and the prop boy eagerly volunteers for the part of Tim while the cynical stage manager must be forcibly drafted to play the old miser. The troupe proceeds to make their way through the tale, creating fog, snow, fire and ghosts through mime, imagination and wonderful visual effects. The rag tag players (including the stage manager and prop boy) quickly become the characters of the story, and we are pulled into the life of Ebenezer Scrooge. The Christmas Spirits work their magic and warm the heart of Scrooge, as well as the old stage manager. This is an extremely effective and easily produced version of this Christmas classic.
This adaptation of the classic story was initially produced to critical acclaim by the Mark Taper Forum. The production proved so successful that it was revived the following year…and the following and the following!

"A CHRISTMAS CAROL…is a ninety-minute blitz of non-stop enchantment." —Los Angeles Herald Examiner.

"A CHRISTMAS CAROL…is certainly the most gaily wrapped and most clever presentation of these holidays." —Arizona Republic.