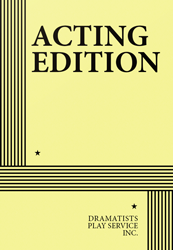 Full Length, Comedy
2 men, 3 women, 1 boy
Total Cast: 6, Exterior
ISBN-13: 978-0-8222-0078-9


MIN. PERFORMANCE FEE: $105 per performance.
THE STORY: Leo Beagle has recently completed a 638-page manifesto on harmony for humanity which he hopes will be the impetus for the next major social movement for the world. Arriving home to his family which includes his depressed mother, philandering father, confused sister, introverted nephew and a neighbor who has always been in love with him, Leo tries to test his principles on this group. The only problem is…he can't get them to read the manifesto. Leo's visit does, however, bring change to the family. Although Leo's mother accuses him of being "addicted to hope," the play's moving ending suggests that the desire to save the world and the need to dream is born with each new generation.
Is any one a prophet in one's own country, especially when that country is modern suburbia? A touching look at what happens when a would-be messiah arrives home with a 638-page manifesto on harmony for humanity and the effect this has on his anything but harmonious family. Originally produced by South Coast Repertory, the play was recently revived by the Los Angeles Group Repertory Theatre. The production prompted Robert Koehler at the Los Angeles Times to say: "…the play is sweet and brilliant." "Mark Stein's comedy exudes a gentle warmth…It is heart-felt and charming…conveyed with gentle laughter and considerable humanity; Stein's characters truly feel lived-in." —LA Daily News. "…a wise and winning comedy…a genuine find…that truly is funny and has something to say. It challenges our beliefs in a light-hearted way and ends on an uplifting note." —Washington Times.