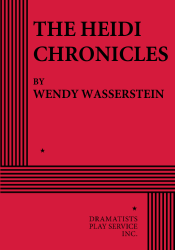 Recipient of the 1989 Tony Award® for Best Play and winner of the Pulitzer Prize for Drama.

THE STORY: Comprised of a series of interrelated scenes, the play traces the coming of age of Heidi Holland, a successful art historian, as she tries to find her bearings in a rapidly changing world. Gradually distancing herself from her friends, she watches them move from the idealism and political radicalism of their college years through militant feminism and, eventually, back to the materialism that they had sought to reject in the first place. Heidi's own path to maturity involves an affair with the glib, arrogant Scoop Rosenbaum, a womanizing lawyer/publisher who eventually marries for money and position; a deeper but even more troubling relationship with a charming, witty young pediatrician, Peter Patrone, who turns out to be gay; and increasingly disturbing contacts with the other women, now much changed, who were a part of her childhood and college years. Eventually Heidi comes to accept the fact that liberation can be achieved only if one is true to oneself, with goals that come out of need rather than circumstance. As the play ends she is still "alone," but having adopted an orphaned baby, it is clear that she has begun to find a sense of fulfillment and continuity that may well continue to elude the others of her anxious, self-centered generation.
Also winner of the New York Drama Critics Circle Award for Best Play, the Outer Critics Circle Award for Outstanding Broadway Play, the Drama Desk Award for Outstanding Play, the Hull-Warriner Award and the Susan Smith Blackburn Prize.

A significant and celebrated play, which was first presented by Off-Broadway's Playwrights Horizons and went on to become a long-run Broadway success. Funny, touching, and written with rare grace and sensitivity, the play is a moving examination of the progress of a generation, from the socially and politically activist sixties to the success-oriented eighties—a time during which the status of American women underwent profound, and sometimes unsettling, change.

"…not many plays manage Heidi's feat of inducing almost continuous laughter while forcing the audience to examine its preconceptions…It's the play of the season…" —Variety.

"…witty, hilarious…not just a funny play, but a wise one…I doubt we'll see a better play this season." —New York Daily News.

"…a wonderful and important play." —Newsday (NY).

"…the writing is emotional and heartfelt, rare qualities in today's trivial theatre, and all the more extraordinary when combined with perceptive characterizations and witty dialogue." —BackStage.