Home | FAQs | Join the DPS Mailing List
Sign In |

View Cart | Pay Invoice Fees | Edit Account | New Account | Sign Out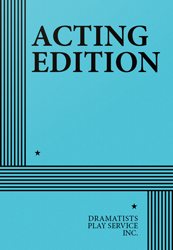 John Cariani
Romantic Comedy
Full Length
2 men, 2 women (doubling, flexible casting): 4 total
Flexible Set
"…a whimsical approach to the joys and perils of romance. Magical happenings bloom beneath the snowdrifts." —NY Times. "A charmer…Unexpected magic lingers in the air like someone's breath on a cold winter's night. John Cariani aims for the heart by way of the funny bone." —Star-Ledger (NJ). "Utterly endearing…It's hard not to warm up to ALMOST, MAINE. A crowd-pleaser." —Broadway.com. "Sweet, poignant and witty." —NY Daily News. "A snowy charmer…These nine tales of love in the time of frostbite have a winning glow that proves surprisingly contagious." —NY Sun.
Book/Item: ALMOST, MAINE
Book Type: DPS
Price: $9.00
ISBN/Code: 978-0-8222-2156-2
FEE: $100 per performance. SPECIAL NOTE: A CD with cue sheet of the original music composed by Julian Fleisher is available through the Play Service for $35.00, plus shipping and handling. The nonprofessional fee for the use of this music is $20.00 per performance.
The original New York artwork for the play is available for use through
Theatre Logos Agency
.
THE STORY:
On a cold, clear, moonless night in the middle of winter, all is not quite what it seems in the remote, mythical town of Almost, Maine. As the northern lights hover in the star-filled sky above, Almost's residents find themselves falling in and out of love in unexpected and often hilarious ways. Knees are bruised. Hearts are broken. But the bruises heal, and the hearts mend—
almost
—in this delightful midwinter night's dream.