The Devil and Daniel Webster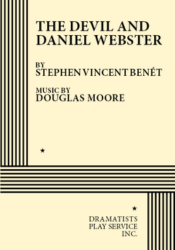 THE STORY: Guests are dancing at the wedding of Jabez Stone, a young New Hampshire farmer, in 1841. But Jabez carries a burden; he has sold his soul to the Devil and must deliver it up to him at the stroke of midnight. Mr. Scratch, a lawyer, arrives shortly before twelve, and Jabez bids his guests be gone, resigning himself to pay the price. However, his bride, Mary, stands by him—as does his friend, Daniel Webster, hailed by all present as "the greatest man in the U.S." Webster proceeds to argue against the Devil as though they were in court, insisting that a jury must decide Jabez's fate. Mr. Scratch agrees, and a jury of both the living and the dead appears to hear the case. Webster thunders with passion about saving Jabez's life, but to no avail. After a change of tactics, Webster's passionate oratory rises to miraculous heights, winning back the young farmer's soul and banishing the Devil from New Hampshire.
A play version of the poet's famous story. A brilliant bit of American folklore and a delightful comedy.