The Devil and Daniel Webster—Sheet Music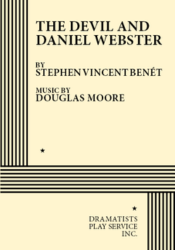 Sheet Music, Score
ISBN-13: 1630-SHEETMUS


There is no additional fee for the use of this music.
Two songs with music by Douglas Moore and lyrics by Stephen Vincent Benét, "I've Got a Ram" and "Now May There Be a Blessing," are optional for production. Sheet music for both songs is available for purchase with your license for $5.00 and will be distributed digitally.