The Liar (Ives) - ePublication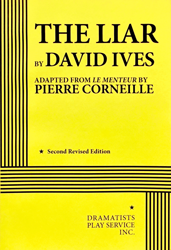 adapted from
Le Menteur
by Pierre Corneille
THE STORY:
Paris, 1643. Dorante is a charming young man newly arrived in the capital, and he has but a single flaw: He cannot tell the truth. In quick succession he meets Cliton, a manservant who cannot tell a lie, and falls in love with Clarice, a charming young woman whom he unfortunately mistakes for her friend Lucrece. What our hero regrettably does not know is that Clarice is secretly engaged to his best friend, Alcippe. Nor is he aware that his father is trying to get him married to Clarice, whom he thinks is Lucrece, who actually
is
in love with him. From all these misunderstandings and a series of breathtakingly intricate lies springs one of the Western world's greatest comedies, a sparkling urban romance as fresh as the day Pierre Corneille wrote it, brilliantly adapted for today by
All in the Timing
's David Ives.
"THE LIAR and its mischievous adapter, David Ives, want you to savor every meticulously groomed conceit, every stylishly turned-out couplet, every assiduously manicured joke…Ives is an inveterate jester, a trait that serves him well on an evening that is all jest." —Washington Post.

"If there's anything half as entertaining as THE LIAR onstage hereabouts, I'd be obliged if someone would let me know about it." —Washington City Paper.

"For Ives, one of America's better dramatic humorists, translating the fun of Pierre Corneille's 1643 French comedy was an act of respectful reinvention…The result is a scrubbed, vivacious script salted with hints of cheeky self-awareness." —DC Theatre Scene.

"Astonishingly fresh, funny, and totally appealing to modern audiences." —Washington Examiner.