The Temperamentals - ePublication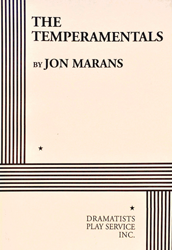 THE STORY: "Temperamental" was code for "homosexual" in the early 1950s, part of a created language of secret words that gay men used to communicate. THE TEMPERAMENTALS tells the story of two men—the communist Harry Hay and the Viennese refugee and designer Rudi Gernreich—as they fall in love while building the first gay rights organization in the pre-Stonewall United States.
"Intellectual, emotional and sexual." —The New York Times.

"Combines savvy context and ascending flights of bittersweet fabulousness." —Newsday (NY).

"Fascinating, entertaining and emotionally affecting." —Associated Press.

"With style and a sense of humor, THE TEMPERAMENTALS mixes politics with campy comedy and unexpected bursts of emotional candor." —Time Out New York.