Mrs. Mannerly - ePublication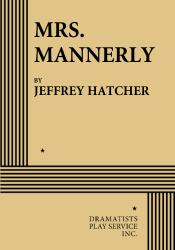 THE STORY: Inspired by hilarious memories of a childhood etiquette class, playwright Jeffrey Hatcher conjures up the world of a ten-year-old studying manners. Mrs. Mannerly is a demanding teacher, and no student in her thirty-six years of etiquette classes has achieved a perfect score. But when he discovers her secret past, Young Jeffrey is determined to be the first to achieve this feat. This unique comic tale reveals truths about the face we present and the real selves that lie inside.
"MRS. MANNERLY is a hilarious comedy narrated by Hatcher recounting his experiences studying manners and etiquette as a ten-year-old as taught by a very demanding and controlling teacher. Hatcher's brilliance as a master storyteller richly entertains us all along the way…a thousand laughs…It will have you rolling in the aisles laughing uncontrollably and hysterically. MRS. MANNERLY is the most ingenious and hilarious new play of the new year." —Houston Chronicle.

"Who am I? How did I come to be me? The usual responses to such queries often spring from religion, existentialism or me-generation solipsism. But in MRS. MANNERLY, as in some of his other recent works, playwright Hatcher has been probing beneath these questions with his usual charm and irreverence and gives us insights into a few of the influences that formed Jeffrey Hatcher, American wit." —Minneapolis Star Tribune.

"MRS. MANNERLY is the title character in Jeffrey Hatcher's delicious little play about a stand-up student named Jeffrey and the time he spends in a 1967 etiquette class under the tutelage of a mysterious and wonderfully well-mannered teacher. An absolutely charming night of theater. This is a ticket that everyone who loves good manners and live theater should have." —Houston Press.

"Hatcher's dialogue is typically smart, funny, and subversive (talking about manners class, young Jeffrey remarks, 'It was like we were going to church only we cared.'). Nowhere here are we asked to do much more than luxuriate in witty dialogue delivered with a deft touch." —Minnepolis/St. Paul City Pages.