One Man, Two Guvnors - ePublication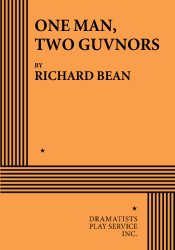 THE STORY: Brighton, England. 1963. Change is in the air, and Francis Henshall is looking to make his mark. Fired from a skiffle band and in search of work, he finds himself employed by small-time gangster Roscoe Crabbe, in town to collect a fee from his fiancee's gangster father. But Roscoe is really Rachel, posing as her own dead brother, herself in love with Stanley Stubbers (her brother's killer) who, in turn, becomes our hero's other 'guvnor'. Fighting a mounting sense of confusion, Francis goes out of his way to serve both bosses. But with the distractions of a pneumatic book keeper, a self-important actor and select members of the criminal fraternity (not to mention his own mammoth appetite) to contend with, how long can he keep them apart? Richard Bean's hilarious comedy received 5-star reviews from every London newspaper and was the hit of the 2012 Broadway season.
"Splendidly silly…satanic and seraphic, dirty-minded and utterly innocent." —The New York Times.

"…lifts audiences from mere happiness to eye-watering, comic hysteria." —Variety.

"The most glorious comedy on the planet." —Daily Mail (UK).

"If you're not having a good time at this show, you may be on the wrong medication." —The Hollywood Reporter.