The New Sincerity - ePublication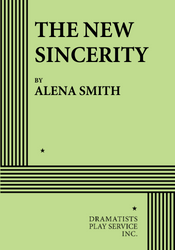 THE STORY: Rose Spencer has just achieved the ultimate young-intellectual's dream: becoming a staff writer for a prestigious New York literary/criticism journal. And her editor, the smart and attractively cynical Benjamin, is definitely flirting with her—while also respecting her writing. With the sudden rise of an Occupy-style political movement in a public park right outside the journal's offices, Rose sees a way to participate in what may be the defining activist movement for her generation, but too quickly she must learn to recognize the difference between sincere action and skillful self-promotion.
"Splendid…Both entertaining and thought-provoking, this 85-minute zinger about millennials—a group loosely defined as those born after 1980—trying to find meaning in their lives is…a comedy with a poignant edge." —The New York Times.

"Clever and edgy, Smith's satiric dialogue, with references to our Internet-altered ethos, evokes movements of the past, making the '60s anti-war protests look antique, its ideals meeting just as hollow an end." —Huffington Post.

"A biting, brutally honest comedy about the blurred line between believing in something and jumping on the bandwagon, THE NEW SINCERITY is a daring new work…" —Dan's Papers.