The Wickhams: Christmas at Pemberley - ePublication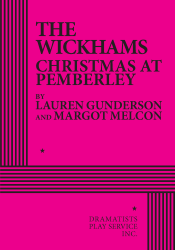 THE STORY:
In this delightful companion play to
Miss Bennet
, Gunderson and Melcon once again bring Austen's beloved characters to the stage for a yuletide sequel to
Pride and Prejudice
. While
Miss Bennet
depicted the newly wed Darcys' Christmas gathering on the ground floor of Pemberley, THE WICKHAMS takes audiences to the downstairs servants' quarters for that same celebration. Mrs. Reynolds, a no-nonsense housekeeper; Cassie, an eager new maid; and Brian, a lovesick footman, are bustling with preparations for holiday guests. But their work is interrupted by the midnight arrival of the definitely not invited Mr. Wickham—Lydia's rogue of a husband and Mr. Darcy's sworn enemy. THE WICKHAMS is a charming holiday tale that explores the confines of class and the generosity of forgiveness.
Part of the Pemberley trilogy with
Miss Bennet: Christmas at Pemberley
and
Georgiana and Kitty: Christmas at Pemberley
.
"The genius of Lauren Gunderson and Margot Melcon, in exploring Austen's world, is to explicitly articulate what the books more elliptically imply: For these 19th-century women, beyond…security lay the more fundamental dream of liberty...This is world-class theatrical art…" —City Pages Minneapolis. "…In the tradition of the source material, there is a powerful (without being overbearing) feminist message to THE WICKHAMS: CHRISTMAS AT PEMBERLEY…a lovely holiday concoction: melt in your mouth, with just a touch of spice." —Talkin' Broadway.

"…THE WICKHAMS is as witty and wonderful as its sister play… It is a truth universally acknowledged that Gunderson and Melcon brilliantly capture the heightened idiom of Austen's world. What makes this writing team so remarkable…is the consistency of their plays' characters with their originals in the novel…enjoy the splendid holiday gift that is THE WICKHAMS." —Twin Cities Arts.