Letters of Suresh - ePublication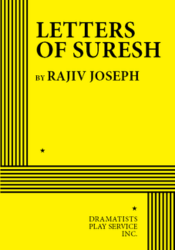 THE STORY: LETTERS OF SURESH reveals intimate mysteries through a series of letters between strangers, friends, daughters, and lovers—many with little in common but a hunger for human connection. Sending their hopes and dreams across oceans and years, they seek peace in one another, while some dream of a city once consumed by the scourge of war. LETTERS OF SURESH is a companion play to Animals Out of Paper.
"[LETTERS OF SURESH] finds its characters in various stages of heartbreak, with no fracture fully healed…the play surveys the near impossibility of connection." —The New York Times.

"Joseph's writing is as vivid and poetic as ever…[He] creates such intriguing, intelligent characters…" —New York Stage Review.