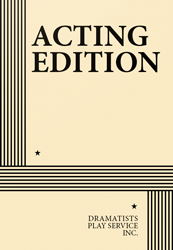 Full Length, Long One-Act Play
12 men, 2 women
Total Cast: 14, Interior
ISBN-13: 9780822207474

THE STORY: Writing of A MEMORY OF TWO MONDAYS, Chapman called it: "a one-act fragment about people who work in an automobile parts warehouse in the early Roosevelt days. Properly speaking, it has no plot—yet something does happen to almost everybody. A youth gets a chance to go to college. A drunk reforms. Another drunk rebels. A young man with a song in his soul finds himself forgetting the song as poverty and a lack of opportunity grind him down." Somewhat Chekhovian in style, A MEMORY OF TWO MONDAYS provides an unusual number of meaty parts for actors.
This is the shorter of two plays which were produced on Broadway under the generic title of A View from the Bridge. "An interesting and sometimes affecting mood piece." —NY Herald-Tribune. "…superlatively fine plays…American theatre in its most vigorous aspect, and with them Miller, whose work has already commanded great respect, shows further development in his human insight, his theatrical skill and his quality as a poet. These plays are in the vernacular of the lowly—of the inarticulate, even, yet they emerge as works of beauty." —NY News.