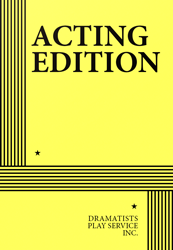 One Act, Comedy
6 men, 2 women
Total Cast: 8, Simple Flexible Set
ISBN-13: 978-0-8222-1435-9

THE STORY: In RAVENSWOOD, we are in an expensive retreat for the unhappily married, where the wheel-chaired director, Dr. Pepper, dispenses a definitely unique sort of marital guidance. His theory includes complete indulgence of such "bad habits" as smoking, drinking and sexual promiscuity—which seems to work wonders for his patients, whose wacky case histories are each examined in hilarious detail.
Winner of the Obie Award. First an Off-Broadway hit, and then successfully transferred to Broadway, one of a pair (under the omnibus title of BAD HABITS) of brilliantly satirical plays offering a biting and hilarious study of events in two very singular sanitariums. "…really funny…goes to prove that laughter is the best medicine." —NY Times. "Terrence McNally gets funnier and funnier. His BAD HABITS is a twin bill and it's funny enough for two theatres." —NY Daily News. "…the best comedy so far this season…" —Variety. "…inspired madness of the highest order." —Cue.