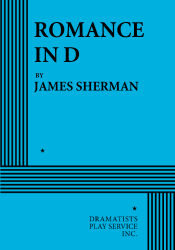 THE STORY: ROMANCE IN D takes place in two side-by-side apartments in present-day Chicago. Charles Norton, a musicologist, lives in one apartment alone with his books and music. Isabel Fox, a poet on the verge of a divorce, moves into the other apartment and puts her head in the oven in a half-baked suicide attempt. Charles, next door, smells the gas and inadvertently becomes Isabel's savior. George Fox, Isabel's father comes to town and tries to cheer Isabel up. Helen Norton, Charles' mother, encourages Charles to get to know Isabel, but Charles refuses to become involved. Isabel makes the effort to befriend Charles, and Charles, try as he may to resist, falls in love. One day, when Charles and Isabel are away, Helen and George meet, and they discover that they have their own similar interests. Will Helen and George fall in love and leave the children to fend for themselves? Will Charles profess his love for Isabel and risk another heartbreak? Will Isabel go back to her husband or put her head back in the oven? All four characters use their knack for music and words as they nervously navigate the path of true love.
"…a buoyant, affecting and unpretentiously sweet romance." —Chicago Tribune.

"…sweet,endearing…Sherman's ability to write something…profound surfaces near the end of the first act as Charles woos Isabel with a fugue based on her name. It's a perfect, poetic moment…" —Chicago Sun-Times.

"…a wry, witty examination of love's ability to blossom under the most unlikely of circumstances…If you love romance, laughter, and happiness, ROMANCE IN D is a must-see." —Creative Loafing Tampa Bay.