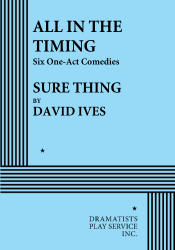 One Act, Comedy
1 man, 1 woman
Total Cast: 2, Flexible Set
ISBN-13: 978-0-8222-1396-3


MIN. PERFORMANCE FEE: $55 per performance.
THE STORY: SURE THING. Two people meet in a cafe and find their way through a conversational minefield as an offstage bell interrupts their false starts, gaffes, and faux pas on the way to falling in love.