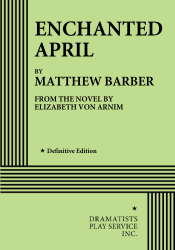 THE STORY:
From the novel by Elizabeth von Arnim. Feeling lost in the shadows of marriage and forgotten in the rush of 1920s post-war society, two London housewives pool their savings to rent a villa in Italy for a ladies-only holiday away, reluctantly recruiting a pair of difficult upper-class women to share the cost and the experience. Together under the Mediterranean sun, the four women clash—and then begin to bond and bloom—until men once again upset the balance.
For more information on ENCHANTED APRIL, visit:
www.matthewbarber.info
.
2003 John Gassner Award winner—Outstanding New American Play.

"A comical, restorative journey of discovery…from darkness to light, from inhibition to unrestrained joy. Beautiful and theatrically rewarding." —Variety.

"ENCHANTED APRIL is as good as they come: a lush, thoroughly refreshing theatrical holiday. Escape has seldom seemed so sweet. A magical triumph." —Los Angeles Times.

"ENCHANTED APRIL is that rarity: a play where every single element falls perfectly into place—a show that leaves you positively glowing." —NYTheatre.

"The kind of play that reminds you of why you love theatre." —Hartford News.